As Australia's education technology and innovation industry hub, we have seen first-hand the education transformations of 2020. We witnessed EdTech companies step up with increased customer support and free access to their platforms, organisations adapting to online-only conferences and discussions, and most importantly, a switch to remote learning across the education spectrum. 
We wanted to take this moment to reflect on what worked in 2020, in order to inform how we can grow from here into 2021 and beyond. From the inaugural Melbourne EdTech Summit to our foundation and strategic partners who supported us in this difficult year, below are the events and people that made 2020 an exciting, pivotal year at EduGrowth.
10 highlights for the sector in 2020
More programs, diving into more topics in 2021
Partnership support pushed the sector to greater heights
Some highlights to note
Advocacy and research across the sector
Advocacy and research are critical for us to gain a full scope of the Australian EdTech landscape and to be proactive about sharing future opportunities and challenges for companies. 
In an effort to highlight the contribution EdTech companies made to the Australian economy and education sector when the lockdown began, the Rising with the Challenge paper outlined the growth in the Australian EdTech sector. Since the start of the pandemic, EdTech companies were ready to help educators transition to an online format. This increased need resulted in a growth in jobs during an employment crisis and more learners supported through this sudden digital transition. 
Developed in partnership with Deloitte, the Australian EdTech Census 2019 and 2020 reported on trends that appeared across the sector, investor highlights, and recommendations for acceleration. 
The Australian K-12 EdTech Whitepaper, created with Greenwich Capital Partners, reviewed the current state of the K-12 EdTech sector. This paper included observations on the involvement and expectations of parents and learners, as well as the growth in the number of EdTech companies providing solutions to K-12 schools. 
In order to share sector statistics, the Australian EdTech ecosystem snapshot mapped the magnitude of EdTech's economic impact, company maturity, and education targets. 
Finally, the Australian EdTech Capability study developed with Austrade, informed the idea and creation of the Australian EdTech Directory.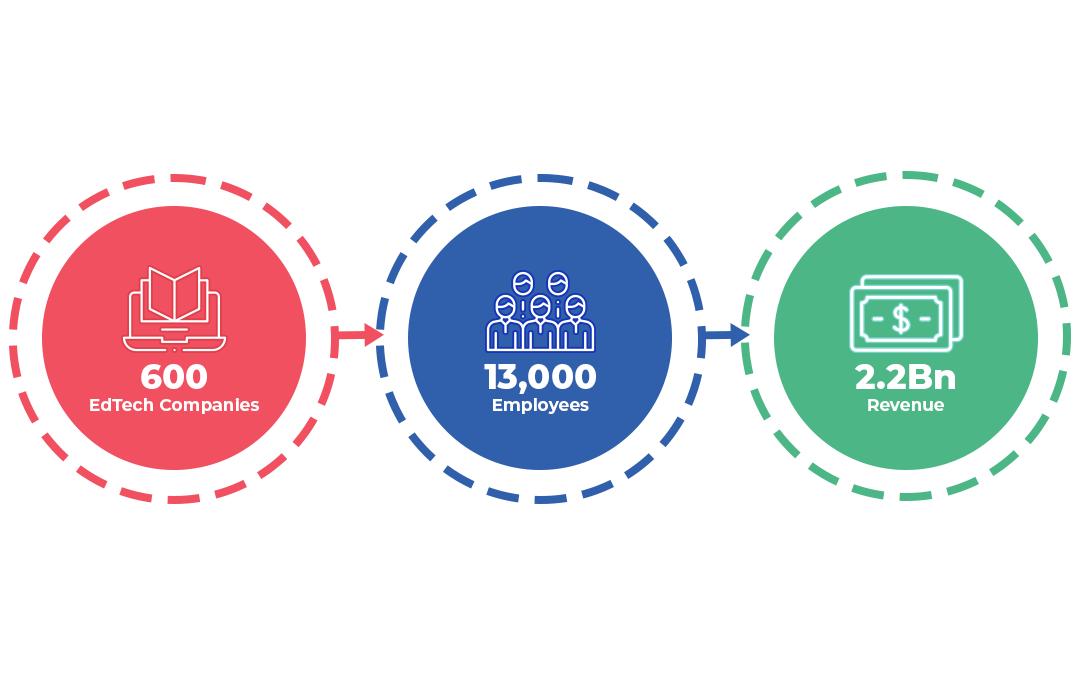 A packed program schedule
It is important to have a platform to reimagine, discuss and highlight the future of Australian EdTech. In programs throughout the year, leading education experts, renowned EdTech entrepreneurs, and investors from both Australia and around the world shared their years of insights and advice. 
Companies pitched their most innovative ideas at the Innovation Alley pitch competition and showcases, education leaders spoke about where digital delivery is heading and connected with entrepreneurs at the Victorian Global EdTech and Innovation Expo, and international experts provided strategic advice for developing market entry strategies in the US EdTech Trade Mission. 
These programs provide opportunities for professional development and connection, designed for EdTech and education industry participants alike.
The first ever Melbourne EdTech Summit 
The inaugural Melbourne EdTech Summit was a major highlight: nearly 4,000 views in total and attendees from 48 countries who all tuned in to learn about the innovation agenda for Australian EdTech. Over 3 days, leading educators, entrepreneurs and thought leaders delivered 18 hours of live content on a virtual conference platform.
Speakers explored their ideas around engaging offshore learners, employability and the future of work, and teaching skills in a digital age. Sessions were led by both Australian and international education and EdTech thought leaders; they reflected on the question "What does the sector look like 5 years from now?" and their answers were fascinating. 
This Summit was made possible due to the support of Global Victoria, Practera, and AWS EdStart.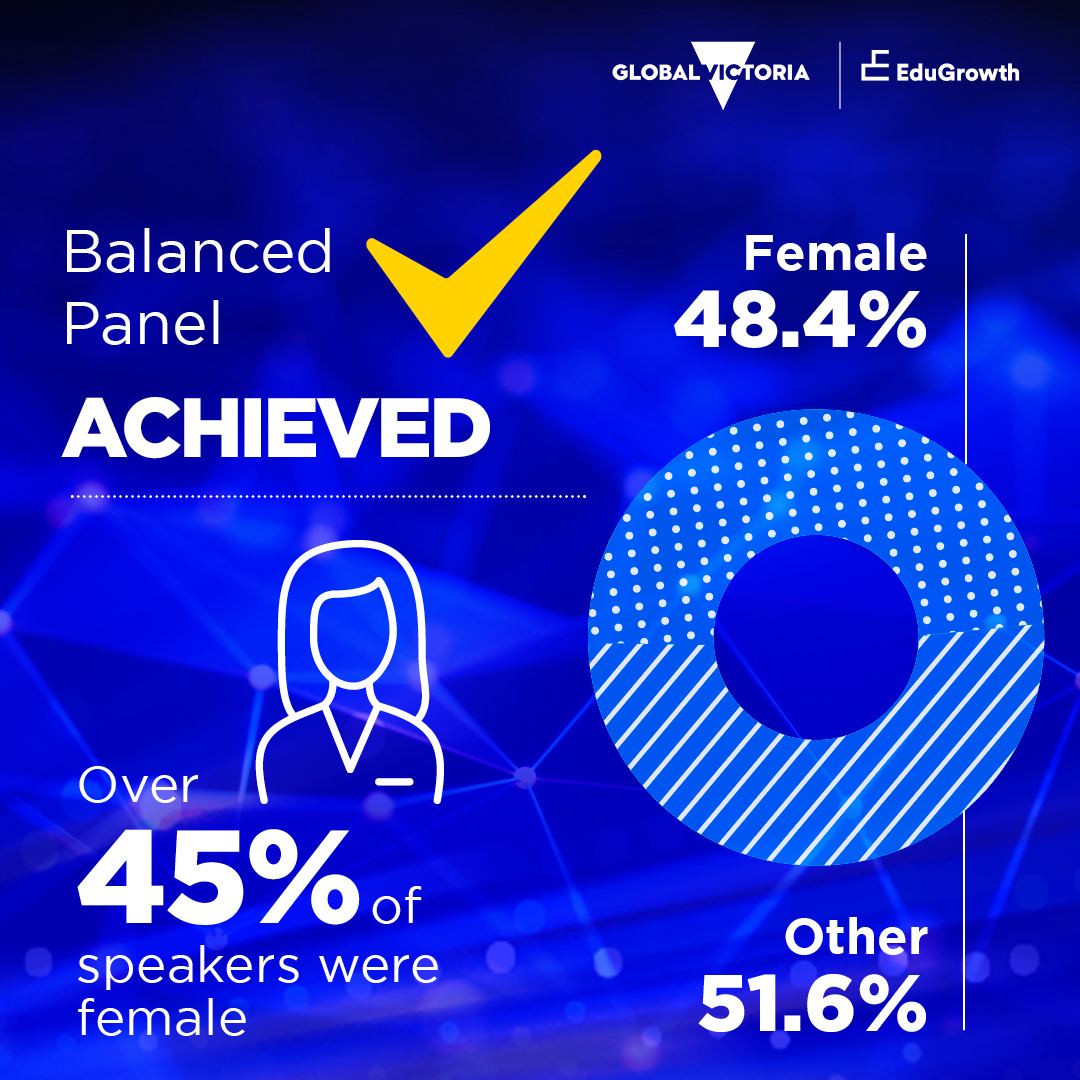 Australian EdTech Directory
In partnership, EduGrowth and Austrade created The Australian EdTech Directory. The aim of the Directory is to provide an authoritative source for Australian EdTech companies that are impacting learners domestically and internationally. 
Recognition from a government agency is valuable when fostering new business relationships, particularly when it comes to selling educational platforms to teachers, schools, and universities. This initiative offers credibility to EdTech companies that are listed on the Directory and wish to enter new export markets.
We look forward to seeing the Australian EdTech Directory amplify Australian EdTech internationally and push the Australian EdTech sector into becoming a global export powerhouse.
The executive ClearPath Syndicate program
As part of our partnership with Maddocks Lawyers, the ClearPath Syndicate scaled to even greater heights: an exclusive opportunity for the leading executives in EdTech in each city to have a space for professional development and connection. 
ClearPath Syndicate members across Australia gather to listen to specialists discuss education, operations, sales and other relevant topics that aim to inform their company strategies. Participants engage directly with speakers, as well as with each other to form partnerships, collaborate on their ideas, and learn from their experiences. 
This program fills a gap in the EdTech sector that did not previously exist: an executive leadership syndicate that specifically focuses on elevating Australian EdTech.
Growing membership across the entire ecosystem
At the close of 2020, the number of members has grown 16% and membership revenue even more with larger EdTech companies and corporate partners joining our vision to transform communities around the globe with Australian EdTech. This community is composed of like-minded organisations and people, committed to positively impacting learners and connecting and learning from their sector peers.
3,500+ registrations to programs
Programs offer members and EdTech sector participants the opportunity to learn something new, build their professional networks, and envision a bold future for Australian EdTech. In 2020, it was fantastic to see this shared enthusiasm among our peers. 
With over 3,500 registrations this year, program themes were relevant and purposeful for the Australian EdTech sector. In continuing and developing new programs, we hope to reach new audiences and provide insights and support for more organisations.
Connecting EdTech companies of all sizes to education institutions
7 showcases were developed focusing on K-12 schools and higher education. ClickView was a primary partner to bring these showcases to life.
While programs that serve a broad range of audiences is valuable to our community, showcases facilitate a deep dive into particular target sectors. We heard from leading Australian educators, academics and entrepreneurs on the place Australian education play in the broader international context. 
At the centre of these showcases are the company presentations. In total, 26 companies presented their innovative ideas to representatives of government, schools, and educational institutions. Participants received direct feedback from prospective customers.
Over 30 hours of viewable content
Over the course of the year, program speakers collectively contributed to over 30 hours of shareable content. While in-person delivery was made impossible by the COVID-19 crisis, the virtual environment provided the ability to seamlessly stream and record content to share with audiences.
Education and EdTech experts spoke on the potential for exporting Australian EdTech, K-12 EdTech solutions, and the future of each aspect of the education spectrum. The breadth of our content grew this year — and it's all available on our YouTube channel.
Partnerships pushed the sector to a new level of knowledge-sharing
Partnerships are the foundation of EduGrowth — they make these programs and services to the Australian EdTech ecosystem possible. 
Navitas, as well as Charles Sturt, Deakin, Griffith, Monash and La Trobe Universities founded EduGrowth and continue to support the EdTech sector during an incomparably challenging year. They saw the vision and potential for EdTech in Australia from the beginning, and have watched the sector grow and strengthen at a rapid pace. 
Maddocks Lawyers and ClickView joined as EduGrowth partners this year. With Maddocks' support, the Australian EdTech executive leadership program was expanded: the ClearPath Syndicates. This invite-only opportunity provides a space for established and emerging executives across Australia to learn from experts and share their experiences with one another. 
ClickView were instrumental in the development of the K-12 EdTech showcases. Focusing on this particular segment is important for our members and wider ecosystem: 42% of EdTechs target K-12 schools. These showcases gave EdTech companies the opportunity to present their innovative solutions, as well as for industry participants to gain insight into what digital platforms are available to integrate into curriculums. 
AWS EdStart continues to support early stage startups, including through an open discussion to understand the needs of the EdTech community during the pandemic and partnering with us for the Melbourne EdTech Summit. In 2021, you will see more events developed through this partnership. 
Deloitte partnered with EduGrowth to develop both the 2019 and 2020 Australian EdTech Market Census. These reports analysed the current state of the EdTech ecosystem, the challenges that lie ahead, and opportunities for participants. 
Finally, Global Victoria supported a series of programs, in particular those that raised the profile of Victorian EdTech. The Melbourne EdTech Summit, the Victorian Global EdTech and Innovation Expo, and the US EdTech Trade Mission were three major programs they supported and contributed to. 
Thank you to these partners for their program support, to featured speakers for offering their time and expertise, and to all those who participated in expanding their understanding of the sector in 2020.
What's in the cards for 2021? Subscribe to EduGrowth news and follow us on social media to stay updated on upcoming programs and services for the Australian EdTech community.