Connect Collaborate Accelerate
Connecting and collaborating to accelerate Australia's education technology and innovation ecosystem globally.
Trade and investment opportunities
Australia Vietnam EdTech Innovation Exchange
A program connecting educators, EdTech entrepreneurs and education institutions in Australia and Vietnam, as peers to learn cooperatively. The 2-year program will explore key trends in each market focussed on digital transformation, education efficacy and innovation driving student outcomes.
Foundation Partners
Proudly partnered and sponsored by Australia's leading education organisations together with local and state bodies.
explore our
Programs
Our programs focus on developing the entire education technology and innovation sector. We have a range of services supporting EdTech companies at each stage of their journey, whilst also connecting education providers and industry participants into the broader ecosystem.
discover the
Ecosystem
We are connecting a community of education providers, industry participants and EdTech entrepreneurs committed to reimagining learning in the digital age.
EduGrowth welcomes OpenLearning as a Strategic Partner
EduGrowth welcomes OpenLearning as a strategic partner. OpenLearning has been an active member of the EduGrowth community and a valuable participant in many programs over the years. We are excited to formalise a partnership with OpenLearning that will support the...
Continue reading
EduGrowth welcome Curio as a Strategic Partner
EduGrowth welcomes Curio as a strategic partner. Curio is a collective of strategic advisors, educators and product developers focused on working directly with education institutions to make a difference.  Curio has been a great supporter of EduGrowth and the wider...
Continue reading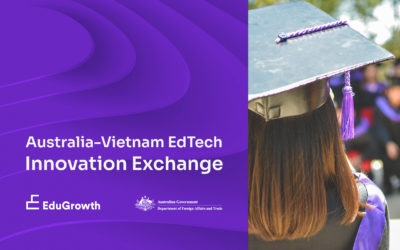 An Opportunity for Connection: Australia-Vietnam EdTech Innovation Exchange
This program is made possible through grant funding from the Department of Foreign Affairs and Trade, under the Australia-Vietnam Enhanced Economic Engagement Grant Program 2021. It aims to connect the Australian and Vietnamese EdTech ecosystems to collaborate and...
Continue reading
EdTech ecosystem report
Australian EdTech industry participants are united by a common goal: for Australia to play a leading role in the development of education technology globally.