Connect Collaborate Accelerate
Connecting and collaborating to accelerate Australia's education technology and innovation ecosystem globally.
Foundation Partners
Proudly partnered and sponsored by Australia's leading education organisations together with local and state bodies.
explore our
Programs
Our programs focus on developing the entire education technology and innovation sector. We have a range of services supporting EdTech companies at each stage of their journey, whilst also connecting education providers and industry participants into the broader ecosystem.
discover the
Ecosystem
We are connecting a community of education providers, industry participants and EdTech entrepreneurs committed to reimagining learning in the digital age.
Screenrights Cultural Fund
Apply for the Screenrights Cultural fund for the chance to receive up to $50,000 for EdTech product development. The Screenrights Cultural Fund makes a difference by supporting people with exciting and innovative new initiatives that foster the creation and...
Continue reading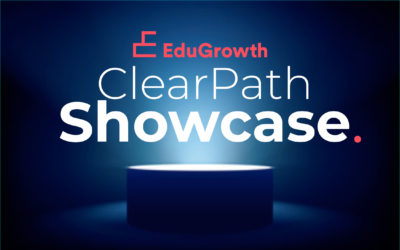 Launching Higher Ed Showcase
ClearPath Showcase Showcase is a key opportunity to strategically connect education providers to innovative EdTech products. Our ClearPath Showcase will demonstrate six deployment ready products to education providers considering new technologies for their...
Continue reading
Conversation Starter: MicroCredentials in the AQF
Prompted by the Australian Government's review of the AQF, the Victorian Government asked EduGrowth to help them start a conversation about the impact on education providers, EdTech and education innovation in Australia if micro-credentials were to be included in the...
Continue reading
Connect. Collaborate. Accelerate.
EduGrowth's 2018 Annual Report highlights the achievements of our second year of operation and our strategic direction going forward as we connect, collaborate, and accelerate to become Australia's EdTech Industry Hub.
PitchEd NSW – EdTech Pitch Event
11-31 York Street, Sydney, NSW 2000
Learn more & register