K12 Education
Friday 7 June @ 9.15am
Will technology provide a much-sought after breakthrough in educational assessment?
Standardised testing programs seem to have been around forever. Debate about these programs hasn't abated. Copious research and reports are available on assessment with endless advice for teachers about how and what they need to assess.
A new concept has more recently emerged –
A year's growth, for a year's learning?
Yet, we are still wrestling with how to assess.
Will advances in technology provide a much sought-after breakthrough?
Will software that enables teachers to create their own assessments be the answer?Will giving schools greater flexibility in what they assess and when assess, ameliorate issues with standardised testing?
Join a wide-ranging discussion of assessment and technology. Reviewing what is working for teachers and school leaders, and what's not. Consider creativity and whether or not it can be measured. Reflect on the recent Gonski Review and share the work being undertaken by Educational Services Australia to develop an online and on-demand student learning assessment tool. Consider international trends and share a significant breakthrough in reliably assessing opened tasks that's proving successful in Western Australian and South Australian schools.
Dr Sandy Heldsinger
Founder & Managing Director, Brightpath Assessments
Sandy is an academic, author and EdTech entrepreneur. She developed the central components of the Curriculum Outline for Western Australia's School Curriculum and Standards Authority. She has developed a wide range of resources, including reporting software to support schools in using assessments to improve student performance and co-authored What teachers need to know about assessments and reporting, published by the Australian Council for Educational Research.
David Linke
Managing Director, EduGrowth
David leads EduGrowth, Australia's education technology industry hub.  EduGrowth is the national not-for-profit organisation driving connection, collaboration and acceleration of Australia's education technology and innovation ecosystem.
Andrew Smith
CEO, Education Services Australia
As CEO of Education Services Australia, Andrew is responsible for the development and deployment of national education infrastructure, resources and technology based services. He is a past Vice President (Engagement) Swinburne University, past CEO of Australian Council for Private Education and Training and is known for his expertise in strategic leadership in the education, training and not-for-profit sectors.
Mathilda Joubert
Educational Consultant & Advisor, Sheridan College Perth
Mathilda is passionate about creativity, innovation and learning. She is an experienced educational consultant and advisor for curriculum and assessment policy development. She works with Australian and International organisations and government on innovation and improvement initiatives for primary, secondary and higher education. In the UK she was researcher for Sir Ken Robinson and an advocate for lifelong learning with qualifications in education, music, business, cognitive neuropsychology, German and English.
Lynda Fisher
Head of Moriah College Primary School, NSW
Lynda is an educator and skilled leader. She is a past president of the Independent Primary School Heads Association IPSHA, a member of the Federal Board of IPSHA, and current committee member for Association of Primary Principals of Australia. Lynda is a recipient of the National Excellence in Teaching Award, the John Laing Professional Development Award and a High Achievers Award from the National Council of Jewish Women.
StartUp Exhibitor Booths Available
Join a community of education technology innovators
Exhibit for only $700 +GST
$3,000 in cash + other great prizes
4 heats across 2 days
Grand final on main stage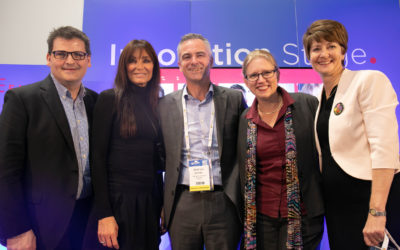 Advancing classroom assessment with technology
There's more to what goes on in a classroom than is shown through standardised testing, but can technological innovations give both teachers and parents a more holistic view of a child's progress? On the EduGrowth Innovation Stage at EduTECH Sydney Dr Sandy...
Continue reading
New generations of cloud learners
When you think of the cloud, what comes to mind? For some, it's an actual cloud, and trying to explain the digital concept to those people can be challenging. For others, they may be using it, or have varying levels of understanding of how it works and its benefits....
Continue reading
Tim Praill: a way forward for edtech
By 2030, the largest company on the internet is going to be an education based company that we haven't heard of yet. Tim Praill cited futurist Thomas Frey at his recent keynote during the EduTECH conference and expo in Sydney.  Tim Praill, Head of Navitas Ventures...
Continue reading