Be a part of a movement: to transform your EdTech business and take your place as a leader in the Australian EdTech ecosystem.
The ClearPath CEO Syndicate is a one-of-a-kind program that is exclusively for successful Australian EdTech entrepreneurs, business leaders and educators to expand their leadership capabilities. Six times a year, members meet to hear from high-profile speakers on the fundamentals of operating in their target sector, pushing their businesses another step further.
Their decades' worth of experience in the sector will inform your strategic plans, as well as provide an opportunity for you to discuss with your peers how to implement these learnings. This is a collegiate environment to share your thoughts, questions and ideas — taking time out of your normal work day to reimagine the way you lead.
Australia is on the path to becoming the global export powerhouse in digital education. ClearPath Syndicate members are at the forefront, leading us into a new age of operational excellence and innovation.
Supported by
Strengthen Strategic Thinking
Access to Education Leaders
Join a syndicate for EdTech leaders servicing the K12 Schools or Higher Education markets
Join a syndicate of EdTech leaders focussed on innovation in the K-12 schools market.
42% of Australian EdTech companies provide solutions into the K-12 schools market, which generates $828 million in revenue annually.
Join a syndicate of EdTech leaders focussed on innovation in the higher education market.
22% of Australian EdTech Companies provide solutions into the Higher Education market, which generates $536 million in revenue annually.
Frequently Asked Questions
Why is the ClearPath CEO Syndicate program important?
Leading a business can be isolating, and the additional dimensions of the education sector creates unique challenges for EdTech entrepreneurs. The ClearPath CEO Syndicate Program aims to connect EdTech Entrepreneurs, education sector business leaders and leading educators regularly to enhance the journey through connection and collaboration.
Is the ClearPath CEO Syndicate the right program for me?
ClearPath CEO Syndicate membership is an exclusive, executive level or senior leadership opportunity that promotes thought leadership, personal and business development.
What will I get out of joining the ClearPath CEO Syndicate program?
You will be joining a collegiate environment where senior leaders can learn alongside their peers in an open, respectful and confidential environment.
Connect with education sector peer executives on a shared journey of reimagining learning in the digital age

Learn with expert speakers providing insights into specific areas of business growth including capital raising, entering international markets, customer acquisition, government, policy, legal, financial, investment, strategy and more

Share your journey with the members of your syndicate and receive new perspectives on the challenges facing your business from peers facing similar challenges

Guidance from an expert syndicate chair with extensive experience in building education technology and innovation products, services and businesses without the governance challenges of a board chair

Join a syndicate with other EdTech leaders focussed on the K12 schools market or higher education market
What is the structure of the program?
The ClearPath CEO Syndicate Program is structured as follows:
Six half-day meetings across the year

An independent syndicate chair with significant education sector experience

Each syndicate comprises 10-12 education technology and innovation leaders

Expert speakers will provide insights into specific areas of business growth

Syndicate members have the opportunity to share their business experiences under Chatham House rules and seek the perspectives of others sharing a similar journey
Is there a financial commitment to participate in this program?
There is an annual financial commitment to participate in the ClearPath CEO Syndicate, the fee represents the annual cost of managing the program, appointing a syndicate chair, sourcing high-quality guest speakers and using engaging environments to drive creativity.
Members of the CEO Syndicate Program…
are supporting learners, teachers, schools, institutions and companies to positively impact educational outcomes, support access to learning and increase the efficiency of educational processes and systems.
With thanks to
Martin Bean
CEO | The Bean Centre
Liz Johnson
Deputy Vice Chancellor Education | Deakin University
Jon Manning
Head of Pricing | Carsales.com
Elizabeth Wilson
Chief Information Officer | Victorian Department of Education & Training
Rita Ferrandino
Founding Partner | ARC Capital Development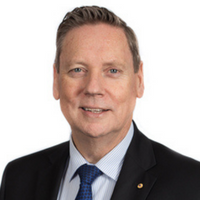 Geoff Masters
CEO | Australian Council of Education Research (ACER)
Andrew Smith
CEO | Education Services Australia
Bridget Burns
Executive Director | University Innovation Alliance
To learn more or express your interest in joining the ClearPath CEO Syndicate program, please complete the form below or send an email to [email protected]
"When syndicate members are having direct conversations, when they meet independently outside the meeting, when they leverage each other's expertise, that's the real value."
David Linke
Managing Director, EduGrowth