Victorian Global EdTech & Innovation Expo
Partnerships and education technology as the driver of education innovation
Victoria is
serious about
EdTech
With leading universities, a global
reputation for excellence in education
at all levels, and state government
enthusiasm for the sector, no wonder
Victoria is known as an exemplary
EdTech hub.
Easy
Our expo will be hosted virtually over three days and at a time that suits you.
Focused
We will have six sessions focussed on a sector (K-12, Higher Ed and Workforce) each day.
Inspiring
We have handpicked the keynote speakers to share their insights.
Business
We will have 20 Victorian EdTech companies showcasing their solutions with Q&A opportunities.
Connections
We are launching our inaugural business matching program that will be tailored to participants' specific needs.
This is an expo you
will not want to miss
Why Victoria?
Victoria.
A key part of Australia's
EdTech ecosystem
Victorian EdTech companies impact learners in Australia and around the world with leading technology products.
K12
6 April 2021 (Tuesday)
– teaching and assessment
– work skills within K-12
– remote learning
Higher education
7 April 2021 (Wednesday)
– microcredentials
– student engagement
Workforce
8 April 2021 (Thursday)
– upskill and reskill
– the role of corporates in
training and development
Tuesday 6 April 2021 | AM Session
Rethinking assessment in a digital world
Accurate and descriptive assessment is key to understanding student
outcomes and informing key areas for growth. Yet, assessment is often
considered one of the most challenging aspects of learning online.
Whether it be ensuring academic integrity, accessibility or the consistent implementation of rubrics, student assessment is an area of education
that holds incredible opportunity for digital transformation.
This session will explore how the power of technology can be harnessed
to rethink assessment in schools.
Jon Cronin
Education Consultant
Engage MIS
Lauren Sayer
Executive Director Digital Learning, Research and Innovation 
Melbourne Girls Grammar
Gary Vella
Assistant Principal
Coburg High School
Mary-Lou O'Brien
Digital Transformation
Consultant
ML O'Brien Pty Ltd
Tuesday 6 April 2021 | PM Session
Getting the Teaching Toolmix right: How best to blend digital & non-digital resources to maximise student outcomes
Many schools across the globe continue to teach remotely. This session examines how the digital resources we came to rely on when learning from home can be more effectively used to support learning in the classroom. The intersection of digital and non-digital resources uniquely enables teachers to focus their classroom time on specific areas of academics, along with social and emotional learning.
Wednesday 7 April 2021 | AM Session
Driving student success with
analytics and personalised support
Data-driven decision making has been applied to most spheres of the
corporate world to improve returns and inform investment. Yet, there
remains a gap in the use of the insights offered by data to drive returns for students. This session will explore avenues of student success through
the use of data analytics to create individualised interventions.
Sacha Nouwens
Executive Director, Student
Experience and Insights
Online Education Services (OES)
Marcus O'Donnell
Director, Cloud Learning Futures
Deakin University
Neil Pearson
Chief Digital Marketing Officer
IDP Connect
Safi Obeidullah
Field CTO
Citrix
Wednesday 7 April 2021 | PM Session
Reinventing, not just recreating the learning experience
Domestic university students have been opting to attend lectures remotely for a very long time, however the pandemic forced that for every student. Remote solutions now have an opportunity to reinvent not just recreate the traditional recruitment and learning experience.
This session will examine the current expectations of domestic and international university students and explore how that can be met with digital technologies integrated with physical locations across a campus.
Thursday 8 April 2021 | AM Session
The power of connection
Through the partnership of technology and learning we can connect
at scale. The question is: how do we connect with meaning? And how
can we learn in collaboration with others? In this session we explore,
with Cahoot Learning partners Terri Givens and Andrea Clarke, the
importance of building trust and connection through relationships via
learning. Why is connection so important for learning? How can trust
be built for and between learners? What kind of change is possible?
Terri Givens
CEO & Founder
Brighter Higher Ed
Andrea Clarke
CEO
FutureFit CO
Matt Hughes
Managing Director
ripen psychology
Phil Murphy
Executive Director, Student Journey Transformation
Bendigo Kangan Institute
Thursday 8 April 2021 | PM Session
Leveraging technology to transform the student experience
Transformation of the student experience isn't a simple process. Future-focussed institutions consider the entire student lifecycle. Beginning with the very first engagement, progressing through course delivery, academic support, graduation and most importantly the learners engagement with industry. This true transformation takes real partnership across the education provider and in step with industry. 
Educator or an EdTech
professional
—


this is the event for you
This is an expo you
will not want to miss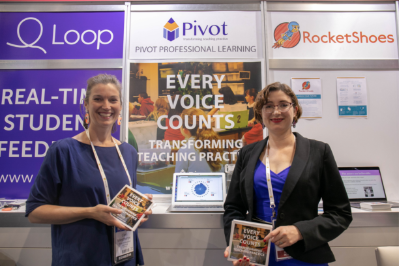 The program breakdown
The Victorian Global EdTech & Innovation Expo will focus on a
specific sector each day (K12, Higher Education and Workforce).
The program is designed to drive your thinking around how
EdTech can impact student outcomes.
EdTech Company Showcase Session
Hold on to your seats as you focus on our fast-paced, 4-minute presentations by Victorian EdTech companies. Each presentation will have a 3-minute Q&A session, so you can get specific questions answered.
Keynote Presentation and Insights
Time for some inspiration. In this session, you will have the opportunity to listen to some of Australia's greatest EdTech minds. It will be thought leadership at its best. So get your pen and notebook ready!
Day 1 Keynote speaker – K12
Day 2 Keynote speaker – Higher Education
Day 3 Keynote speaker – Workforce
EdTech Virtual Trade Show
Lastly, the virtual trade show doors will open! Here you will have a chance to meet and listen to 20 Victorian EdTech companies. Each company will showcase their solutions in dedicated demo slots.
You will also have the opportunity to book one-on-one meetings with our Victorian EdTech businesses.
Download agenda
Whether you're tuning in from San Francisco or New Delhi,
you will have the chance to tune in from your time zone.
Below are the preferred sessions for the timezones.
LATAM & USA: AM Sessions
UK, Europe, UAE, and Asia: PM Sessions
The Victorian EdTech companies on show
Who should
attend?
This is specifically designed for the global education industry.
Whether you are an educator or an EdTech professional —
this is the event for you. The following is a list of groups who
will benefit from the expo:
Schools, colleges, universities and training institutes
Teachers, lecturers and academics
Education departments at various government levels
EdTech entrepreneurs
EdTech investors
Companies who service the education industry
Education industry partners
Education consultants
Get your tickets
Register below to attend the 2021 Victorian Global EdTech & Innovation Expo as a delegate. We will notify you of final program details including speakers, where the event will be streamed and all other important updates.
Note: To attend multiple sessions, please individually register for each time slot in Eventbrite. This will mean completing each
registration through to the end, then going back to the beginning  to register for another time slot.
Times & Dates
Day 1 – K12
Day 2 – Higher education
Day 3 – Workforce
AM Session – 7am -9:30 am AEST
PM Session – 5pm – 9:30 pm AEST
With thanks to our partner Global Victoria
Learn more about Global Victoria
and opportunities to partner with Victoria's EdTech sector

Copyright © 2021 EduGrowth.
All Rights Reserved
2021 Victorian Global EdTech & Innovation Expo