Victoria-India Innovation Exchange
Connecting Victorian and Indian EdTech Innovation Ecosystems
From April to June 2021 we will be running a series of public and invite only events that connect the Victorian and Indian EdTech and education innovation ecosystems.
Indian and Victorian educators and EdTech entrepreneurs will have the opportunity to develop deep connections and gain insights from each other's respective EdTech ecosystems.
Experts from across India and Victoria will share mutual learnings on education innovation, education technology and the education sector at large. We will discuss technology platforms, innovation models, product efficacy from each lens, targeting each audience and cultural nuances.
This exchange will help build lasting connections between leaders and peers in both markets.
Virtual
The exchange will be hosted virtually, making it simpler to fit into your work and personal commitments.
Unique
There's nothing out there like this program for Australian and Indian EdTech entrepreneurs: a truly one-of-a-kind opportunity to perfect a market entry strategy into either nation.
Intensive
You will be diving deep into the mechanics and nuances of the Indian and Australian EdTech sector and education system.
Collaborative
You will connect with your peers in Australia or India, as well as with innovators and sector leaders to gain real feedback on your solutions. And will help you advance your understanding of the respective EdTech ecosystems.
Practical
Through workshops and summits, you will develop a knowledge set and network to ready your product for the Indian market.
Insights from those on the ground, insights you can only dream about
Two key components of the bilateral Innovation exchange
We will host a series of nine events. Each event will have a featured education innovation speakers:
Two public events with expert speakers
Thanks to our partnership with Global Victoria we have been able to open up part of the Victoria-India Innovation exchange to the public. That's right, to anyone, from anywhere – so if you are interested in education innovation and education technology, come along. The two public events are:
Learn from India's Education Innovation
Learn from Victoria's Education Innovation
Below we outline some of the expert speakers who will be presenting at these two public events.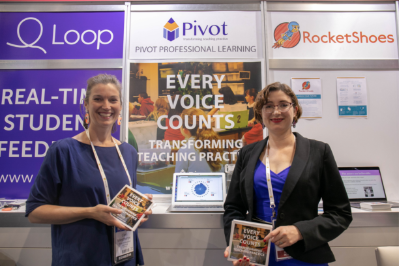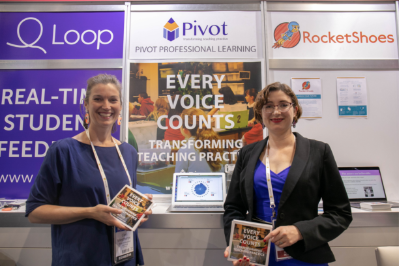 Invite only – For select Victorian & Indian EdTech companies
Each invite-only workshop has been designed to generate connections between Indian and Victorian industry leaders, support business opportunities and share mutual learnings on each other's education sectors, technology platforms, innovation models, product efficacy. The invite-only program includes
Five workshops exclusively for 20 Victorian and 20 Indian EdTech companies
An online course with connected seminars.
Below we outline some of the expert speakers who will be presenting at these two public events.
Public Event – The Expert Speakers
Anyone who is interested in education innovation and education technology are welcome to attend these two public events. You will hear from established Indian and Victorian innovators, global investors, market experts, esteemed educators, and more. Each will share insights that can help you better understand education innovation and how education technology can improve outcomes for you personally or at your education institution or workplace.
Who should
attend?
The Victoria- India Innovation Exchange Program is specifically designed for:
From India: Educators and EdTech companies who want to connect deeply and learn from the Victorian, Australia EdTech ecosystem
From Victoria, Australia: Educators and EdTech companies who want to connect deeply and learn from the Indian EdTech ecosystem.
Following is a list of the various groups within these two ecosystem hubs who will benefit from the public event:
Schools, colleges, universities and training institutes
Teachers, lecturers and academics
Education departments at various government levels
EdTech entrepreneurs
EdTech investors
Companies who service the education industry
Education industry partners
Education consultants
Victoria & India – A perfect match
The Indian and Victorian EdTech sectors are booming. The synergies and opportunities between both locations are real.
India, an ever growing education ecosystem
India is an exciting prospect for global education technology entrepreneurs based in Victoria. India has one of the biggest education systems in the world: 1.5 million K-12 schools and 37.4 million students in higher education alone.
The Indian EdTech sector has expanded rapidly over recent years. The sector includes over 4000 startup businesses, attracting substantial investment from global and Indian investors.
Growing from India's internationally connected innovation hubs in cities such as Bengaluru and Delhi, the Indian EdTech vertical is now considered a global leader and home to some of the world's largest EdTech companies.
Victoria, Australia. A key part of Australia's EdTech ecosystem. 
Educator or an EdTech
professional
—


this is the event for you
This is an expo you
will not want to miss
Victoria, known for its education excellence
With leading universities, a global reputation for excellence in education at all levels, and state government enthusiasm for the sector, no wonder Victoria is known as an exemplary EdTech hub.
Victorian EdTech companies impact learners in Australia and around the world with class leading technology products.
 Victoria's EdTech sector are leaders as
The home of Australia's Online Program Management Sector
A centre for the future digital assessment across the education sector
The nucleus of the education innovation thought leadership sector necessary to drive the digital transformation of learning.
The program breakdown
The Victoria India Innovation Exchange program schedule takes place between April and June 2021. We have two public events and a series of invite-only events. This exchange program is focussed on learning from each other and how both can build sustainable education innovation using technology. We've covered the most important aspects to assist you with your market entry strategy and bring together the most valuable experts to contribute. This includes workshops, summits, meetings and other events. Below is our program schedule for Victorian and Indian entrepreneurs.
For Indian Educators and EdTech Entrepreneurs
How will your product fit into Australian education market?

How do you establish your EdTech business in Australia?

What do business experts recommend you think about when doing business in Australia?

How do I create EdTech partnerships in Australia?

What can I learn from EdTech innovation in Victoria?
For Victorian Educators and EdTech Entrepreneurs
Hear from six leading Indian EdTech companies on how they deployed education innovation in India

Learn how to design an EdTech product for the Indian market 

Learn how to establish an EdTech company in India

Learn from Indian educators about the needs of their country

Develop connections with Indian EdTech executives and educators  

Test your EdTech solution with an Indian audience and gain valuable feedback.
Private program
These are the only two public events in this exchange. In the closed program, selected EdTech companies from India and Victoria learn about entering one another's respective markets.
Victorian EdTechs participate in the below workshops:
Showcasing Victorian EdTech Innovation to India
EdTech Executive Connections
Supporting EdTech Partnerships in India
Indian EdTechs participate in the below workshops:
Establishing an EdTech company in Victoria
Understanding the needs of Australian Educators in evaluating your EdTech product
EdTech Executive Connections
Watch the summits.
The 2021 Victoria-India Innovation Exchange is now completed. Below are the recordings of the two sessions with international thought leaders on the Indian and Victorian education technology markets. 
With thanks to our partner
Global Victoria
Learn more about Global Victoria
and opportunities to partner with Victoria's EdTech sector

Copyright © 2021 EduGrowth.
All Rights Reserved
2021 Victoria – India Innovation Exchange