Ecosystem
Thursday 6 June @ 12.30pm
Education Innovation or Education Technology?
What's driving the market!
There is a global buzz about education technology, but what is the actual driver – the tech or the innovation.  Education providers are adopting technology all the time, but maybe it's a means to an end.
Join a conversation about a strong edtech ecosystem that includes education providers, government and an industry body.
David Linke
Managing Director, EduGrowth
David leads EduGrowth, Australia's education technology industry hub.  EduGrowth is the national not-for-profit organisation driving connection, collaboration and acceleration of Australia's education technology and innovation ecosystem.
Amanda Pickrell
Director International Education, Department of Jobs, Precincts & Regions Victorian Government
Amanda has extensive government experience specifically in international engagement, defence, and national security policy. She has worked in all tiers of government, not-for-profit organisations and the private sector internationally. She led projects for Canada's Public Policy Forum on public sector productivity, indigenous economic development, adaptive and resilient communities, and national broadband policy. Amanda holds a Masters of Arts in International Relations and a Bachelor of Arts in Political Science and Asian Studies.
Glenn Campbell
CEO, Deakin Co
Glenn is a government and education sector leader with expertise in organisation design, culture analysis, strategy, performance improvement, and corporate governance. He is a Non-Executive Director of the Gippsland Waste and Resource Recovery Group, an Executive Director of Deakin University's UniLink Pty Ltd and a past advisory board member for OECD, APO, ANU and U.Can.
The EdTech Investor Landscape
Friday 7 June @ 11.15am
Join a panel discussion facilitated by Tim Praill of Navitas Ventures about the EdTech investor landscape in Australia and abroad. Joining Tim is Joshua Nester from SEEK, John Henderson from AirTree Ventures and Clive Mayhew an angel investor.
Tim Praill
Head of Navitas Ventures & General Manager Strategy & Transformation, Navitas
Tim is a strategist with experience in corporate strategy and business transformation. He is a startup advisor on growth strategy, business model design and fundraising strategy. He is a board member of Volunteering WA and holds an MBA from the London Business School.
Joshua Nester
Education Director, SEEK
Joshua is an enterprising senior executive strong on strategy and execution. He has over a decade of experience in the online education and employment sectors in Australia and internationally. He is an expert in education strategy, M&A, strategic partnerships and business development. He has an extensive global network and advises government and non-profit organisations in the field of Education.
Karen Bohm
Founding Partner, Pangaea Impact Investments
Having spent 10 years in the legal profession and then as an investor in two highly successful education businesses; Think Education Group & Open Colleges Australia, Karen changed direction and in 2015, joined the world of impact investing.  A Founding Partner of Pangaea Impact Investments, Karen focuses on supporting passionate social entrepreneurs who are tackling some of society's toughest social problems. With a passion for fairness, equality and a firm belief that education is critical to unlocking opportunity, Pangaea provides investment and strategic expertise to businesses focussed on improving educational access and outcomes and accelerating opportunities for disadvantaged groups.
Clive Mayhew
EduTech Investor, Chairman Open Learning
Clive is an investor and mentor and has an extensive background in software and Internet services internationally. He was the founder of Netscape Australasia and led CDNow, the largest e-commerce store in the early 2000s, before Amazon. He is the principal investor and Chairman of Open Learning, he is an expert in residence for Sydney StartUp Hub, resident investment coach for UNSW Innovations and a past chairman of Sky Software.
Srdjan Dangubic
Partner, Five V Capital
Srdjan is a Founding Partner at Five V Capital and has over 10 years experience in corporate advisory and investments. He is a past Director of CVC Capital Partners, where he held multiple roles, including Investment Director of the Pan Asia International team which he helped to form, focussed on multinational opportunities. He is a past executive of Macquarie Capital Advisors, where he focussed on the telecommunications, media, entertainment and technology sectors. Srdjan is a past director of the Mantra Group and holds a Master of Finance, Bachelor of Laws (Hons) and Bachelor of Commerce degrees.
StartUp Exhibitor Booths Available
Join a community of education technology innovators
Exhibit for only $700 +GST
$3,000 in cash + other great prizes
4 heats across 2 days
Grand final on main stage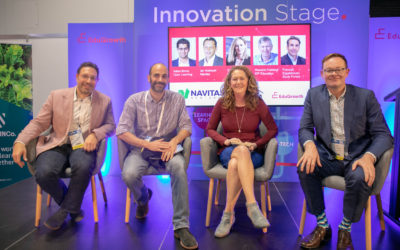 A digital future for higher ed
On the Innovation Stage at EduTECH, our panel discussed the future of higher education learning and what that means for the traditional university campus. Wes Sonnenreich of Practera, Grainne Oates of Quitch, Glenn Campbell of DeakinCo. and Dror Ben-Naim of Smart...
Continue reading
Embracing soft skills in the face of change
Soft skills from employees and great cultures set by employers, are the future of the workplace as we enter the Fourth Industrial Revolution, so says the Future of Work Panel at EduTECH Sydney. After a keynote address by Sophie Lanyon, Manager Professional Practice...
Continue reading
Social justice at the core of innovation investment
Investors are looking for EdTech innovations with a defined purpose, and a goal set on improving the education of students according to EduGrowth's panel at EduTECH Sydney. Tim Praill, Head of Navitas Ventures & General Manager Strategy & Transformation at...
Continue reading