EduGrowth has created an Innovation Precinct at EduTECH 2019
Dedicated zone & theatre!
Innovation Alley – just for startups with a shared demo space
Innovation Stage – a full program of thought leadership
Special guests, pitch comp & more!
Australia's Biggest EdTech Expo
10,000 attendees
250 exhibitors
2019 Keynote by Sir Ken Robinson

StartUp Exhibitor Booths Available
Join a community of education technology innovators
Exhibit for only $700 +GST
$3,000 in cash + other great prizes
4 heats across 2 days
Grand final on main stage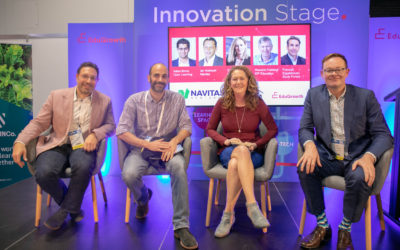 A digital future for higher ed
On the Innovation Stage at EduTECH, our panel discussed the future of higher education learning and what that means for the traditional university campus. Wes Sonnenreich of Practera, Grainne Oates of Quitch, Glenn Campbell of DeakinCo. and Dror Ben-Naim of Smart...
Continue reading
Embracing soft skills in the face of change
Soft skills from employees and great cultures set by employers, are the future of the workplace as we enter the Fourth Industrial Revolution, so says the Future of Work Panel at EduTECH Sydney. After a keynote address by Sophie Lanyon, Manager Professional Practice...
Continue reading
Social justice at the core of innovation investment
Investors are looking for EdTech innovations with a defined purpose, and a goal set on improving the education of students according to EduGrowth's panel at EduTECH Sydney. Tim Praill, Head of Navitas Ventures & General Manager Strategy & Transformation at...
Continue reading