There's more to what goes on in a classroom than is shown through standardised testing, but can technological innovations give both teachers and parents a more holistic view of a child's progress?
On the EduGrowth Innovation Stage at EduTECH Sydney Dr Sandy Heldsinger, Founder & Managing Director of Brightpath Assessments, David Linke, Managing Director of EduGrowth, Andrew Smith, CEO of Education Services Australia, Mathilda Joubert, Educational Consultant & Advisor at Sheridan College Perth, and Lynda Fisher, Head of Moriah College Primary School, NSW discussed the future.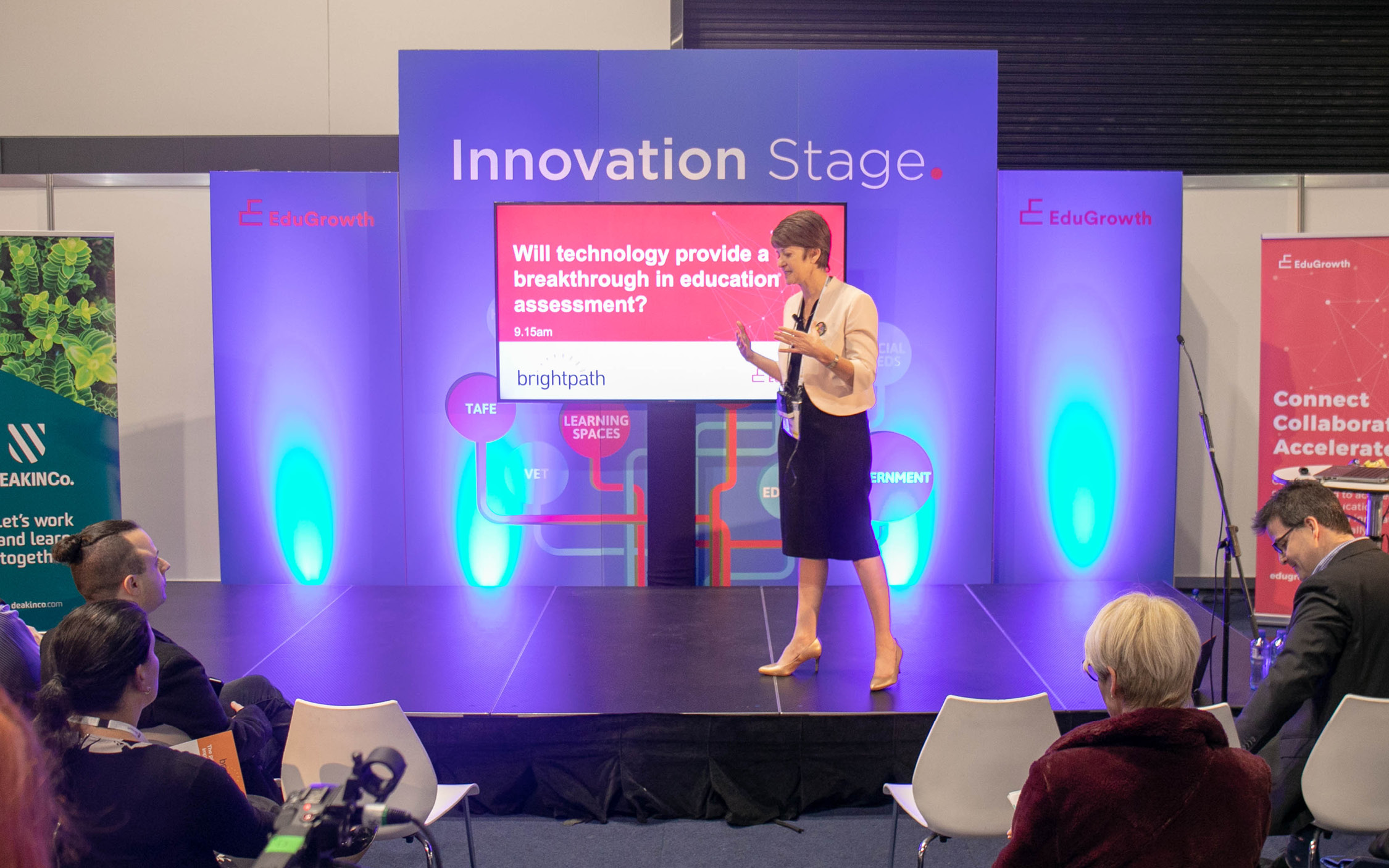 Sandy delivered a keynote address and set the scene for the panel discussion. She highlighted how current views of assessment and standardised testing are too narrow. The solution could be to give teachers more flexibility and control over the testing content, however this poses other problems. "We understand learning to be developmental, that we can measure a student's ability on a continuum much like we can measure temperature". However, as she noted, "learning is so much more complex". If we believe teaching to be complex, then we can't still assume teachers can easily, quickly and efficiently create content and assess children's development." Sandy went on to advise that there is a need for researchers, psychometricians and the education professions to do some hard work in developing assessments, before we look to exciting advances in technology to make these assessments readily available to classroom teachers.
The discussion was timely, as a large review of NAPLAN is already underway and work has begun on conceptualising ways of providing schools with access to low-stakes classroom tests. The panel agreed that there is no doubt the results and data that come from NAPLAN are invaluable. Lynda Fisher however pointed out, "Where data is generated externally to the teacher and used to assess teacher or school performance the emphasis shifts from using the data to understand the progress students make, to teaching to a test to meet system, school or teacher performance requirements within a narrow band."
"An assessment tool such as Brightpath gives teachers a simple, easy to use, practical tool that will assess students in various scales. Allowing them to continually improve, strive for best practice and cater to different learning styles." Lynda Fisher said.
Mathilda Joubert drew on her work as the researcher to Ken Robinson for the UK National Advisory Committee on Creative and Cultural Education, to help explain creativity and ways of assessing it.
The panel spoke about the inequity in access to technology at home, and issues like parental instability or health as being some of the reasons students can fall behind. By using data gathered over the years, teachers will be able to pinpoint drop-offs and intervene. 
"I can see a future of an on-line, on-demand assessment with multi-stream, adaptive testing to provide a better, more holistic view of student learning tied to valuable scales that identify student strengths and gaps and that provides suggestions for approaches teachers can take," said Andrew Smith. 
'Will technology provide a much-sought after breakthrough in educational assessment' was a thought leadership keynote and panel session sponsored by Brightpath Assessments, held on the Innovation Stage at EduTECH Conference, Friday 7 June 2019.